A WATER DAMAGE RESTORATION GUIDE FOR FASTER BUSINESS RESUMPTION
How Water Damage Restoration Leads To Faster Business Resumption
According to recent research, weather, climate, and water-related risks are to blame for at least half of all global disasters in the last 50 years. According to scientists, extreme weather occurrences are becoming more frequent. Water-related catastrophes have dominated the worst global cataclysms of the past 50 years.
And the financial burden is enormous. $521 billion has been spent globally to repair storm damage during the previous 50 years. $115 billion was spent on flood damage, $377 billion of which was incurred in Europe alone.
Europe's most expensive single disaster was a flood that struck Germany in 2002 and caused $16.5 billion in damages. Heavy rainfall caused floods in Mumbai that cost the city Rs 14,000 crore between 2005 and 2015. According to a climate change assessment report released in June 2020 by the Ministry of Earth Sciences, India's flood risk has increased overall due to the increased frequency of heavy rainfall, especially in metropolitan areas.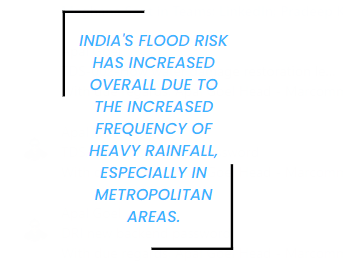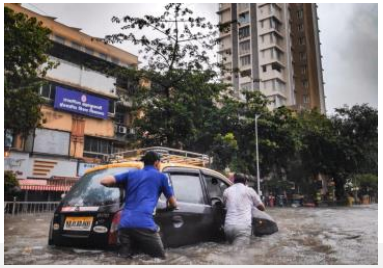 Water damage, whether the consequence of structural leaks or periodic flooding, can be extremely harmful to a building's integrity and the health of its residents. A water-based disaster can be caused by a broken dishwasher, faulty HVAC systems, leaking pipes, flooding, groundwater seepage, choked toilets, and structural breakdowns (for example, leaking roof and windows).
More frequent repercussions include structural damage from the flood, loss of merchandise, priceless papers, data on water-damaged computer drives, damage to priceless machinery, or other corporate assets that may need to be replaced for hundreds of thousands of dollars.
In such situations, most businesses will have to close while repairs are made, which means there may be several days of lost revenue before the firm is ready to reopen. Even then, production might take some time to return to standard output, which would mean further lost revenue. Such a financial position might take months or even years to recover from when you include the recovery from inventory lost in flood.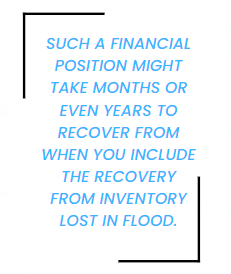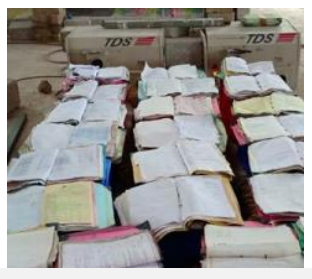 QUICK RESPONSE TO WATER INTRUSION IS ESSENTIAL
When water is left untreated, the structural damage can worsen, causing further damage and affecting the overall function of your building. Speed is crucial when dealing with a water damage event's aftermath, and it is even more critical in the case of a flood occurrence.
Even in the best-case scenarios, unattended water damage in a building may quickly get out of hand, making it more challenging to deal with and driving up the costs. If "clean water" damage is ignored, it can quickly deteriorate into "gray water" issues or worsen into a "black water" disaster. Microorganisms can grow in "gray water", which contains chemical or biological contaminants. "Black water" (from sewers or toilet overflows, for example) can cause illness and severe property damage.
To minimize and prevent severe short- and long-term consequences on the building structure, the initial measures in removing water damage must be initiated within the first 24 to 48 hours.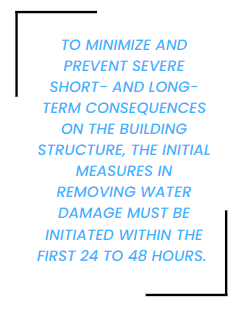 DRYING EXPERTS CAN QUICKLY ASSESS DAMAGE AND CREATE A TIME-BOUND ACTION PLAN TO RESTORE AND RECOVER ASSETS
The water damage restoration methods required to dry the site will be significantly influenced by how severe the water damage is. It will also play a significant role in determining the remediation and restoration techniques that must be used before the assets can be declared secure enough for regular use. The longer you wait to address the situation, the more you risk losing valuable assets.
The first step involves a careful physical inspection to identify water intrusion's direct and indirect impact. Drying experts can accurately identify the damage, quickly assess the severity of the deterioration, and ensure necessary restoration work is executed in the shortest time possible.
Water damage restoration is a process that uses the latest technologies and best practices to dry up and get rid of the water quickly, clean up the area, and restore it to its original condition as soon as possible.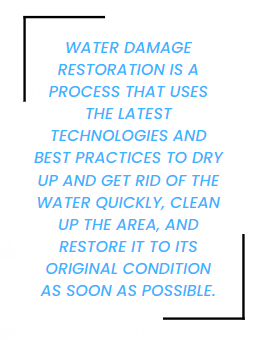 HOW A DAMAGE RESTORATION COMPANY ENSURES FAST BUSINESS RESUMPTION
Deep knowledge about the impact of different classes of water damage makes it easier for experts in water damage restoration to create and implement an effective plan tocminimize the damage to the property. Water damage restoration professionals use advanced equipment, procedures, and techniques to help keep repair costs low and drying times short.
After water intrusion, significant moisture levels remain present in the atmosphere of the affected building. The surface moisture is easily removed by blowing high-velocity air while maintaining the right temperature. However, even after removing excess water and surface moisture, high humidity levels can persist and remain hidden in different porous structures and assets.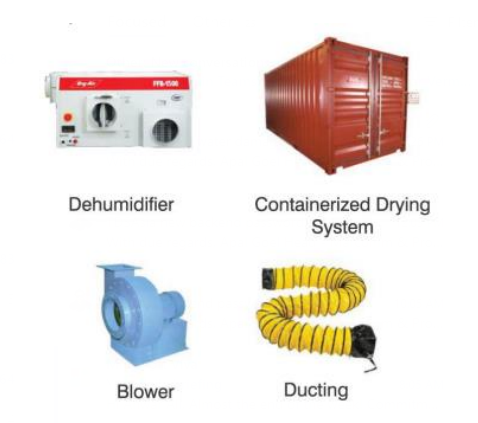 To remove the hidden core moisture, specialized equipment like dryers and dehumidifiers are required. Dehumidifiers are devices that remove moisture from the air. If dehumidification is not used, absorbent materials in the room may absorb moisture and become damaged. Rapid drying accelerates the evaporation process with high-velocity air blowers, while desiccant dehumidifiers ensure moisture removal.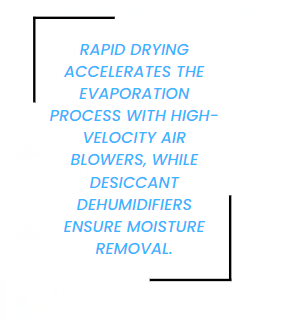 HOW WE HELPED A 5 STAR HOTEL ACHIEVE NEAR 100% RECOVERY IN 10 DAYS
Due to significant rainfall during the monsoon season, the basement at Bristol hotel, Gurgaon, was inundated by water. Due to the overflowing of drainage tank, every piece of furniture and decor was buried in the water. After a call from ICICI Lombard General Insurance Company Ltd., the TDS expert team promptly reached the scene.
Quickly, our repair work started pumping out the water and drying the furniture. A dehumidifier set up by TDS was designed to produce roughly 2000 cfm of dry air. Highspeed blowers and vacuum cleaners were used to start the drying process. Bristol Hotel was able to save money on refurnishing and reconstruction by using TDS drying techniques to repair most of its furniture, carpets, and internal structure.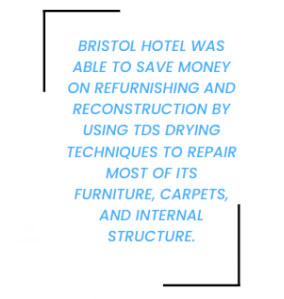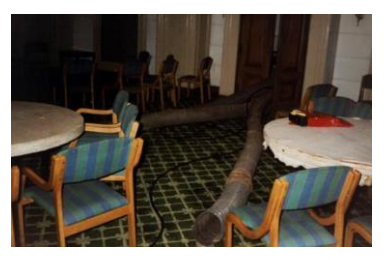 CONTACT DRYING SPECIALISTS FOR TIMELY PRESERVATION, PROTECTION AND RESTORATION OF WATER-DAMAGED ASSETS
When faced with a water damage emergency, it is critical to contact a specialized water damage restoration company as soon as possible to minimize losses and maximize asset recovery. TDS is a pioneer in using advanced air solutions for temporary moisture removal, humidity control, drying, and temperature control services in different industrial situations.
Our NACE-trained air engineers have rich experience in using top-tier equipment like desiccant dehumidifiers across various industries. We have a reputation for quickly turning around water damage restoration conditions with cutting-edge processes and tools that maximize safety and return on investment. Contact us to protect and secure your assets in a water-related disaster and restore them to their original functionality in the fastest and best way possible.