A Guide To Taking Prompt Action With The Help Of Drying Experts For Quick Recovery Of Assets From Water Damage
Climate change observers have identified floods and extreme winds as the two natural disasters that occur most frequently, and flood damage accounts for about a third of the economic losses caused by natural hazards worldwide. In early September 2022, commercial operations in a high-end business location where MNCs like Microsoft and Intel have offices were hampered by the floods in Bengaluru. As per one estimate, the IT industry lost 225 crores on August 30 alone in these floods. The Karnataka government estimated the rain-related losses since June to be worth around Rs. 7,600 crores.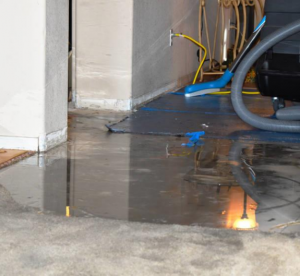 As per reports from across the globe, storms are getting worse and becoming more irregular. Since the atmosphere is retaining more moisture as it warms, storms will produce more precipitation, raising the possibility of more flooding in the coming times.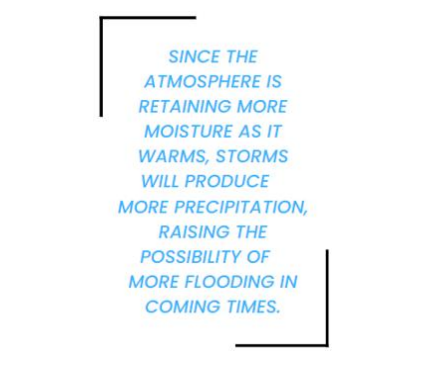 Hurricanes, tropical storms, thunderstorms, and heavy rain are significant causes of water damage emergencies. However, industrial structures and other corporate assets are susceptible to severe damage from any excess water.
DAMAGE DUE TO EXCESS WATER IS OFTEN HIDDEN AND EASY TO MISS
Apart from natural disasters, water can enter a structure through leaking walls, broken windows, doors, or even the ground. It can also enter through leaks in drainage lines. Water damage could occur when a toilet, refrigerator, washing machine, or HVAC system doesn't drain properly, generating a flood. Even if a fire is a major calamity, activating water sprinklers and fire-fighting tools utilizes much water, inducing water-based damage.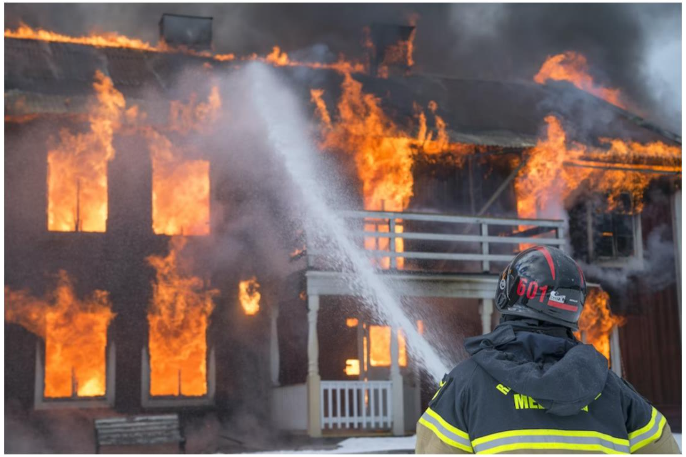 A busted pipe or a faulty appliance can cause water damage, but such cases can be quickly identified and fixed. However, specific problems can result in concealed water damage that is not easily visible. Because water easily interacts with other materials (most easily with porous materials), it can quickly spread across large surfaces, often moving into hidden areas (not visible to the naked eye) in buildings.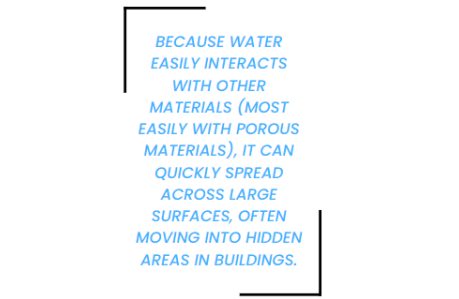 Several materials used in construction are porous, and the permeability of those pores depends on the material type and size. Even a tiny amount of moisture might lead to severe issues with delicate materials like paper or wooden components.
WATER CONTAMINATION LEVELS CAN INCREASE WITH TIME AND
ESCALATE THE SCALE OF DAMAGE
The damage might be severe depending on where the leak is and how long it takes someone to discover it. The force and duration of the water's entry into the building will determine how much damage is done. Different water contamination levels depend on the water's source and its interaction with the materials. Temperature and time can speed up or slow down the amplification of pollutants, changing their category.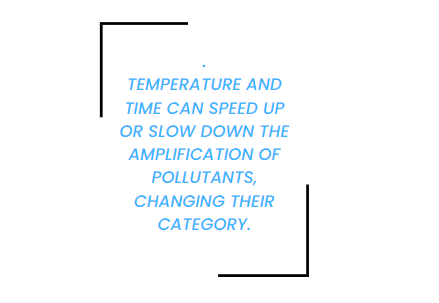 Any clear, unpolluted water influx falls under category 1, also known as clean water damage. Category 1 damage is usually not dangerous, but it should still be cleaned immediately. Any remaining standing water could result in mold growth or structural harm, which would be problematic in the future. Gray water damage, referred to as Category 2 water damage, is brought on by contaminated water that contains chemicals or biological agents like bacteria or mold. The majority of water damage in this category is the result of broken appliances. The worst kind of water damage, known as category 3 or black water damage, is brought on by water extensively contaminated with raw sewage.
WATER DAMAGE RESTORATION (WDR) PROFESSIONALS CAN ACCURATELY ASSESS THE DAMAGE AND INITIATE TIMELY ACTION
The response time after a flood is crucial in getting the affected buildings and assets back to their original working condition. The earlier the structure is dried out, the lower the risk of mold growth. Mold development can start 48 hours after a water intrusion event and, if unchecked, can soon spread across the premises. For accurate damage assessment, water damage restoration experts must meticulously inspect the types of substances involved, the quantity of water, the conditions, and the water contamination levels.
EXPERTS DEPLOY ADVANCED DRYING TECHNOLOGIES FOR MAXIMUM RECOVERY OF ASSET
To adopt appropriate technical drying methods, water damage restoration specialists assess the heat, humidity and airflow levels. Through a series of steps, including removing standing water, evaporation with the aid of air movement, and dehumidification, the drying process aims to eliminate water and moisture from visible and hidden surfaces.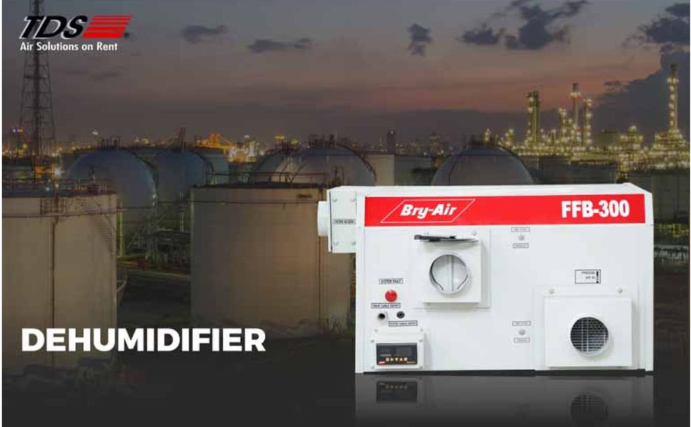 The dehumidification stage aims to exhaust and remove moisture from the air from the outside. Desiccant-based dehumidification is one of the most advanced and efficient methods for eliminating moisture from damaged material.Monitoring the humidity level is crucial during the restoration process to speed up the drying process. It's critical to keep the relative humidity within a relatively small range to prevent the development of damp and moist conditions.
CALL US NOW TO LEARN ABOUT PLANNING A QUICK AND COMPREHENSIVE RESPONSE TO A WATER DAMAGE CRISIS
TDS or Technical Drying Services (Asia) is part of the Pahwa Group, a worldwide dehumidification leader with five decades of experience in dehumidification and environment control solutions, with several patents to its credit. TDS deploys state-of-the-art dehumidification equipment and has NACE-trained air engineers on staff to ensure the implementation of the best possible solution in a water crisis. Since 1988, we have supported several mid-sized and large businesses in various sectors, including iron and steel, oil and gas, chemicals, medicines, food, sugar, and leather. Schedule a meeting with our specialists to understand more about water crisis management and thoroughly understand the complete water damage restoration procedure.