A WATER DAMAGE RESTORATION (WDR) GUIDE: CREATE A FAST RESPONSE ACTION PLAN TO SECURE,  RECOVER AND RESTORE ASSET
All disasters have the potential to harm commercial and industrial buildings. However, water is not only the most frequent but also the most dangerous natural element. According to a study, floods caused around $112 billion in economic damages of the top 10 disasters analyzed between 1970 and 2019. In addition to causing damage to the buildings' foundations and various structural elements, natural disasters like hurricanes, thunderstorms, and heavy rain that result in flash floods can cause substantial damage to industrial machinery and business assets. Rainwater may run towards the foundation of buildings due to clogged gutters, increasing the risk of water damage.
EXCESS WATER FLOW CAN DISRUPT COMMERCIAL AND INDUSTRIAL BUILDINGS IN SEVERAL WAYS
In addition to natural disasters, water can enter a building through cracked drainage pipes, leaks in the roofs, walls, busted windows, open doors, or even from the ground. Your HVAC system is susceptible to
problems like clogging and leakage, just like any other component of your business property. The extra
water in the compression tanks can cause water damage in an HVAC system if it is not frequently
cleaned and maintained.
Your building may occasionally have appliances like water heaters, air cooling systems, and washing machines. These devices and appliances have the potential to leak a sizable volume of water, which can cause severe issues if they break down when no one is there to stop them or at odd hours. If a pipe or an appliance breaks down, it won't take long for your entire property and possessions to get soaked. When there is a lot of water present, building components cannot absorb it as rapidly as is necessary, and the extra water may overflow into deeper areas of commercial structures. Additionally, even if a fire is a primary calamity, activating water sprinklers and fire-fighting tools necessitates using much water, leading to water incursions inside a building.
HOW PASSAGE OF TIME IMPACTS ASSET DETERIORATION DURING A WATER INTRUSION CRISIS
The immediate impact of a water intrusion is that rising floodwater or groundwater soaks through building walls, flooring, and furniture. Sediment buildup and oil pollution can exacerbate the harm caused by flood velocity and pressure. Unattended water damage in a facility can quickly spiral out of control, even in the best-case scenarios, making cleanup more difficult and expensive. If "clean water" damage is not attended to, it may swiftly turn into "grey water" problems or a "black water" catastrophe. In "grey water," which may contain chemical or biological pollutants, microorganisms can flourish. "Black water" (usually from sewage or toilet overflows) can result in disease and significant property damage.
WATER DAMAGE CAN TRIGGER SERIOUS FINANCIAL LOSSES
Depending on the design, health and maintenance levels of your building, untreated water can cause structural deterioration, increasing the threat to assets and components of the building. This deterioration may lead to disruptions in business operations and, in the case of a commercial building, may result in the facility being declared uninhabitable and non-functional.
Flooding can damage valuable goods, sensitive documents, computer drives with critical data and priceless machinery. The affected organization may need to spend hundreds of thousands of dollars to replace the damaged assets. Most firms in such circumstances will have to shut down while repairs are completed, which could result in many days of lost revenue before the business is ready to reopen. Even then, production might take some time to resume its standard output, resulting in more financial losses.
QUICK ACTION IS REQUIRED TO SAFEGUARD, RECOVER, AND RESTORE ASSETS FROM WATER DAMAGE
The success and safety of the restoration project depend on how quickly you take action. Rapid water removal and drying are crucial to minimizing mold groSwth and structural damage. Swift response to water incursions can protect assets, minimize business interruptions and reduce recovery expenses. The earliest steps in removing water damage must be taken within the first 24 to 48 hours to reduce and prevent severe short- and long-term effects on the building structure.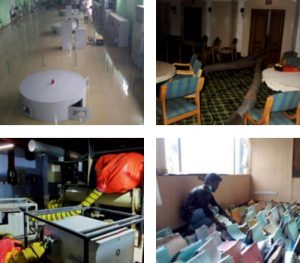 The extent of the water damage will considerably impact the drying techniques that must be used. It will also be crucial in deciding what repair and restoration procedures must be carried out before the assets can be deemed safe enough for routine usage. The longer you wait to take action, the greater the chance you could lose important assets.
The first stage entails a thorough physical assessment to determine water infiltration's direct and indirect effects. Experts in drying can immediately determine the extent of the deterioration, precisely identify the damage, and ensure that any necessary restoration work is executed as soon as feasible.
DRYING EXPERTS USE POWERFUL TOOLS LIKE DESICCANT DEHUMIDIFIERS FOR FAST DRYING AND MAXIMUM RESTORATION OF ASSETS
Dealing with a water damage problem requires that you take it seriously and take quick, decisive action. It is essential to quickly onboard highly skilled personnel trained to employ cutting-edge technology and equipment. Damage restoration experts would promptly assess, plan, and execute water damage restoration by ensuring comprehensive drying to help restore the assets to their original functional state.
Technical Drying Services (Asia) Pvt. Ltd or TDS ASIA is a specialist company providing water damage restoration services across several industries. Our highly qualified NACE-trained air engineers have rich experience using top-of-the-line dehumidification systems. Our technicians will work quickly to assess the damage and begin the restoration process as soon as we receive the necessary approvals. We understand that time is of the essence in these situations, and we will work quickly to get your business back up and running.