A GUIDE TO HIRING A SPECIALIST WATER DAMAGE RESTORATION COMPANY FOR MAXIMUM PRESERVATION AND RECOVERY OF ASSETS
Recent years have increased the frequency and severity of natural catastrophes like storms and flooding due to global climate changes. Unexpected disasters in the future could occur on a bigger scale than those estimated by the standard damage forecasts by disaster management experts. Bengaluru, India's "Silicon Valley," recently experienced tremendous rains that left several places severely flooded, causing numerous fatalities and extensive property damage. Muddy water had inundated residences and commercial buildings in many city areas. Employees of several multinational corporations and startups had difficulty reaching their offices.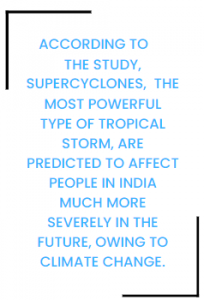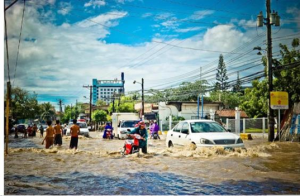 Recently, researchers conducted a modeling study on the 2020 Super Cyclone Amphan, the most expensive cyclone to hit South Asia. According to the study, super cyclones, the most powerful type of tropical storm, are predicted to affect people in India much more severely in the future, owing to climate change.
Specifically, more than 2.5 times (250%) as much of India's population would face flooding of greater than one meter compared to the occurrence in 2020 if greenhouse gas emissions continue at the current rate.
PROFESSIONAL INSPECTION ENSURES ACCURATE ASSESSMENT OF VISIBLE AND HIDDEN DAMAGES
Buildings are designed so that even a minor water intrusion in one part can have a significant and possibly unanticipated impact on the other areas of the building's systems and assets. Water incursion can also impact the health and safety of its residents.
Companies facing a flooding crisis can drastically lower financial losses with the help of professional restoration services. An early intervention by water damage restoration (WDR) specialists can help protect priceless items, minimize secondary damage and result in considerable savings in reconstruction costs.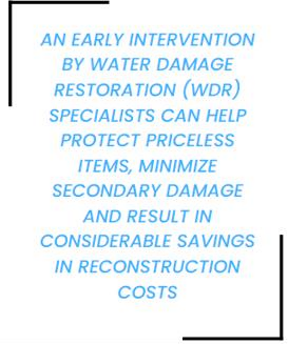 Category 1 or "clean" water damage is typically caused by hygienic sources such as busted water supply lines or overflowing water tanks. Category 2 or "gray" water damage may be contaminated and cause illness when exposed. If left unattended, Category 1 water damage can escalate into a Category 2 or 3 problem. Category 3 or "black" water damage could be hazardous due to raw sewage, heavy metals, and other harmful elements. Tracking time closely is critical, and a high level of expertise is required to assess and deal with different damage categories.
Experienced restoration experts are skilled at assessing such complex water crises. They can thoroughly evaluate the damage and create an action calendar to restore the assets using the most effective technologies per the situation's specific needs. The specialists ensure that they comprehensively inspect the source of water intrusion and all adjacent and connected building areas. The assessment team identifies and lists all impacted components and mentions the water's impact and threat on each asset.
HOW WDR SPECIALISTS CONDUCT A QUICK, COMPREHENSIVE AND
ACCURATE DAMAGE ASSESSMENT
The level of moisture intrusion and water movement into building components and contents is examined and documented by WDR specialists using specialized moisture detection equipment. This process typically starts at the point of water incursion. The WDR team uses a moisture sensor to monitor water migration across and below carpeted surfaces. The assessment team will evaluate all surfaces, including wood flooring, gypsum ceilings, boards, drywall, and plaster. For buildings with intricate sites of water incursion, the engineers may deploy thermal imaging cameras to help identify areas of possible migration before using moisture detection tools.
Before the start of the restoration process, the restoration team will set drying targets for the damaged building components and contents. It is essential to document these goals and arrive at an early agreement on the priorities and timelines with the affected parties accountable for authorizing the restoration process. The water damage restoration crew will start the damage mitigation process as soon as the building owners grant the necessary permissions.
DEPLOYMENT OF ADVANCED DRYING METHODS AND EQUIPMENT SPEEDS UP THE PROCESS OF RESTORATION
To return a damaged building to its original use and functional lifespan, restorers must deploy advanced drying techniques to secure all components of a commercial or industrial structure. Using psychrometry and drying principles, restorers must be skilled in deploying various tools and methods to remove extra moisture from materials.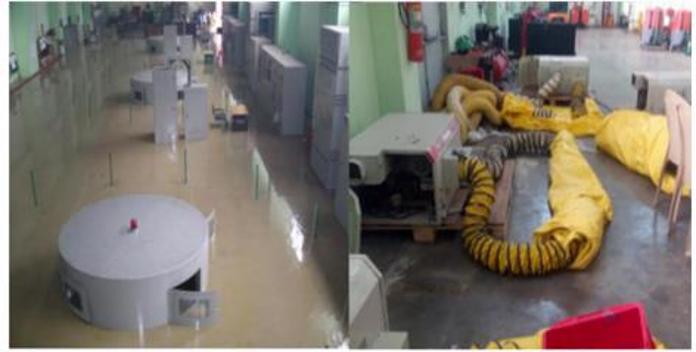 Backed by decades of high-end research, TDS or Technical Drying Services (Asia) is a pioneer in using highly effective restorative drying techniques. We have served various industries, such as oil and gas, power, chemicals, fertilizers, iron and steel, shipping, pharmaceuticals, food, sugar, and leather. Our professionals ensure that an appropriate drying process is initiated for the most vulnerable areas of the building at the earliest to prevent water contamination and the functional deterioration of assets.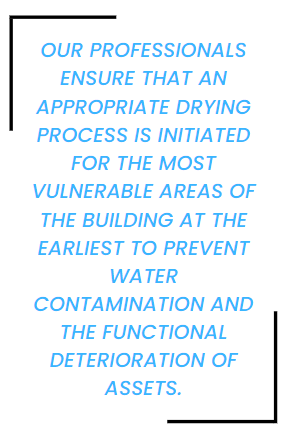 We employ some of the most advanced technologies to remove moisture from damaged assets, such as desiccant-based dehumidifiers. Without dehumidification, the room's absorbent assets risk soaking up water and becoming dysfunctional. The team works diligently for several days to help restore the materials to their initial functioning state while preserving, securing, and guarding the assets against further deterioration.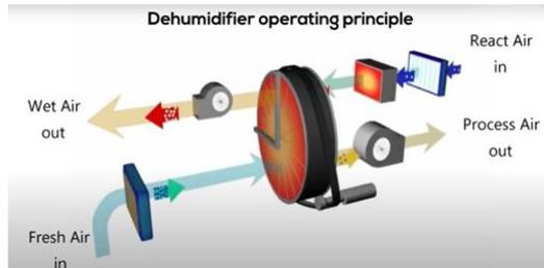 All structural components (walls, plaster, ceilings, wooden floors, etc.), furniture, carpets, and draperies can be restored using our equipment. Our team has the expertise to assist in the recovery of electromechanical machinery such as turbines, generators, and electrical panels. We also have experience restoring assets like artwork, antiques, collectibles, documents, files, and libraries.
CONTACT DRYING EXPERTS TODAY TO UNDERSTAND THE PROCESS OF FAST TURNAROUND DURING A WATER CRISIS
TDS Asia is a leading engineering solutions company that provides short- term moisture removal, humidity control, drying, and temperature regulation services. Founded in 1998, TDS Asia is a Bry-Air group member, a world leader in desiccant dehumidification. The Indian government recognizes our nine internal R&D Labs, and we have some of the top research facilities in the world. Our restoration specialists are among the world's top engineers, having the highest levels of expertise in using state-of-the-art equipment procedures for drying out water-damaged structures.
TDS works with top-tier dehumidification equipment and has NACE-trained air engineers on staff. Industrial water damage situations frequently present one-of-a-kind problems that require quick expert intervention. Our team has several decades of experience assisting our clients to drastically lower reconstruction costs and efficiently reopen facilities as soon as possible. Contact us for a knowledgeable and prompt response to your water damage-related crisis.